A backsplash can be a simple way to completely revamp the look of your kitchen or bathroom. Whether you're going for a rustic look or a more modern look there are many different materials you can incorporate into your backsplash.
Granite is one of the most sought-after materials in kitchen design as it can change the look of any kitchen. Pairing the right backsplash with your granite countertops, in terms of material, color, pattern and texture, is an important step in creating the kitchen you've always dreamed of.
Backsplashes can range from glass, to tile, to marble, to other stone, but despite the material, you'll want your backsplash to perfectly compliment the rest of the room.
Here are some tips to keep in mind when deciding on a backsplash:
Determine your scope. You'll need to decide if you want your backsplash to cover a portion or the entirety of your kitchen's walls above your countertops. After you decide how much surface area you want to cover, you'll have to measure and calculate the square footage to determine how much you'll need.
Decide on the type. This decision may take some time there are various materials. You'll find a range of styles, colors, and textures. Our experts can help you narrow down your choices based on what they think will go best with your kitchen.
Install it. Once you've decided on the material, it's time to install it! It's best to let an experienced professional install your backsplash, so you aren't left with a botched backsplash installation later.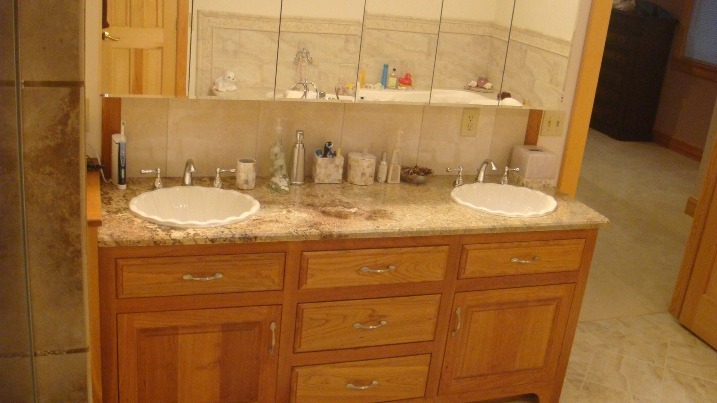 Design Tips:
Mix and Match- pair complex or colorful backsplashes with solid counters
Try a bright color
Invest in the high-impact zone
Be budget savvy
Consider wear & tear
Granite Creations will help you with every step of the planning and installation process. We know remodeling projects are a big investment and it is our goal to make your home improvement projects a success. We want to help you explore all your options and carry out your project smoothly and promptly and ensure you get the look you've always imagined.
Call us at 413-596-3144 for more information on backsplashes and for a free consultation.