Granite Creations, Inc. provides a full range of services to complement both indoor and outdoor countertop spaces in your home. Our experienced staff takes great care in the fabrication and installation of your beautifully customized stone outdoor countertops. Outdoor bartops and counters can help turn your backyard into a perfect area for entertaining!
Outdoor Kitchen Contractor in Hampden County MA
Outdoor kitchens are a great enhancement to any backyard patio. Every night will be grill night! Granite Creations is an outdoor kitchen contractor serving Western MA who can provide a beautifully designed outdoor kitchen countertops for your patio.  You'll be able to fully enjoy all of your outdoor dining and cookouts like never before. All outdoor kitchens need to have an impressive countertop. We have the best outdoor marble & granite counters in the area.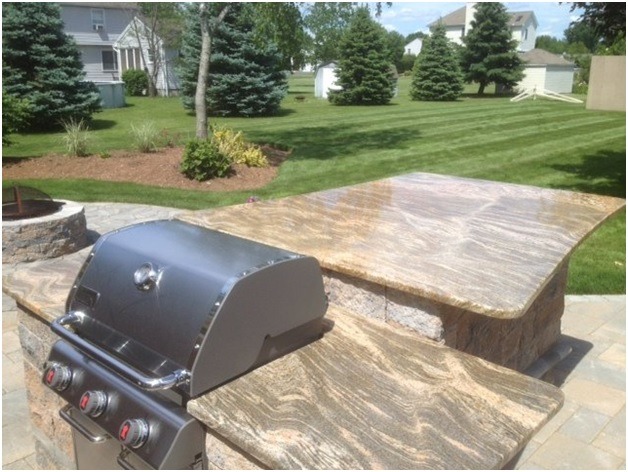 Granite Creations Incorporated of Wilbraham MA can customize your outdoor grilling area with a beautiful granite counter top for your barbeque.
Considering a new outdoor kitchen & barbeque countertop?
Begin your home improvement project with custom-designed outdoor countertops from your choice of durable granite or one of our other beautiful natural stone surfaces.
We offer a wide selection of granite, marble, quartz, or natural stone projects for your next home improvement project. Our team of professionals specialize in the fabrication and installation of granite countertops and marble bar tops, and we would love to work with you on your future bar or outdoor remodeling project. Outdoor kitchen installation are another popular outdoor countertop service we offer.
Call us at 413-596-3144 for more information. Granite Creations is your quality granite and natural stone fabricator in Western MA.